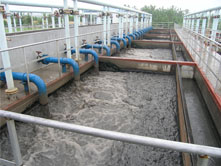 Unique BFB technology for sewage and wastewater treatments.
Kytoland Tech Pte Ltd is a dynamic global water technology company based in Singapore with its regional offices in China and the Philippines. Our core business is to provide quality solutions, services, products and equipment on water and wastewater treatments.
Technology is the key driver of Kytoland. We have a strong in-house Research and Development Team consisting of highly experienced scientists and engineers, with Ph D and M Sc qualifications. To stay at the forefront of water industry, we continuously enhance our technology capability by constantly developing and evaluating new technologies and test-bedding these technologies for commercial and industrial applications. Our business approach is to constantly seek partnership with worldwide organizations to develop, apply and commercialize new technologies for water pollution solutions, and provide a platform to package, brand, and market new technologies internationally.
Kytolandhas a team of multidisciplinary professionals with a wealth of technical know-how and decades of practical experiences to provide consultancy services, with focus on integrated solutions for all water and wastewater requirements across various industries. With its in-depth process knowledge of water/wastewater treatment engineering, in-house design, manufacturing and project management background, Kytoland has the capabilities to assume total process responsibility, and our engineering services include feasibility studies, design, fabrication, assembly, installation, commissioning and maintenance of systems for water and wastewater treatments.
Techologies



Products
We design and custom-made modern equipment for various water and wastewater treatment applications: